OCTOBER
---
---
ROB SWOPE RELEASE PARTY
Friday, October 26th // 7pm - 10pm
Division Street Boutique
1353 Division St. Detroit, MI 48207
Rob Swope is an illustrator and graphic designer in Detroit, Michigan. His current work focuses on fiding balance and harmony within a limited palette.
PAST EVENTS
---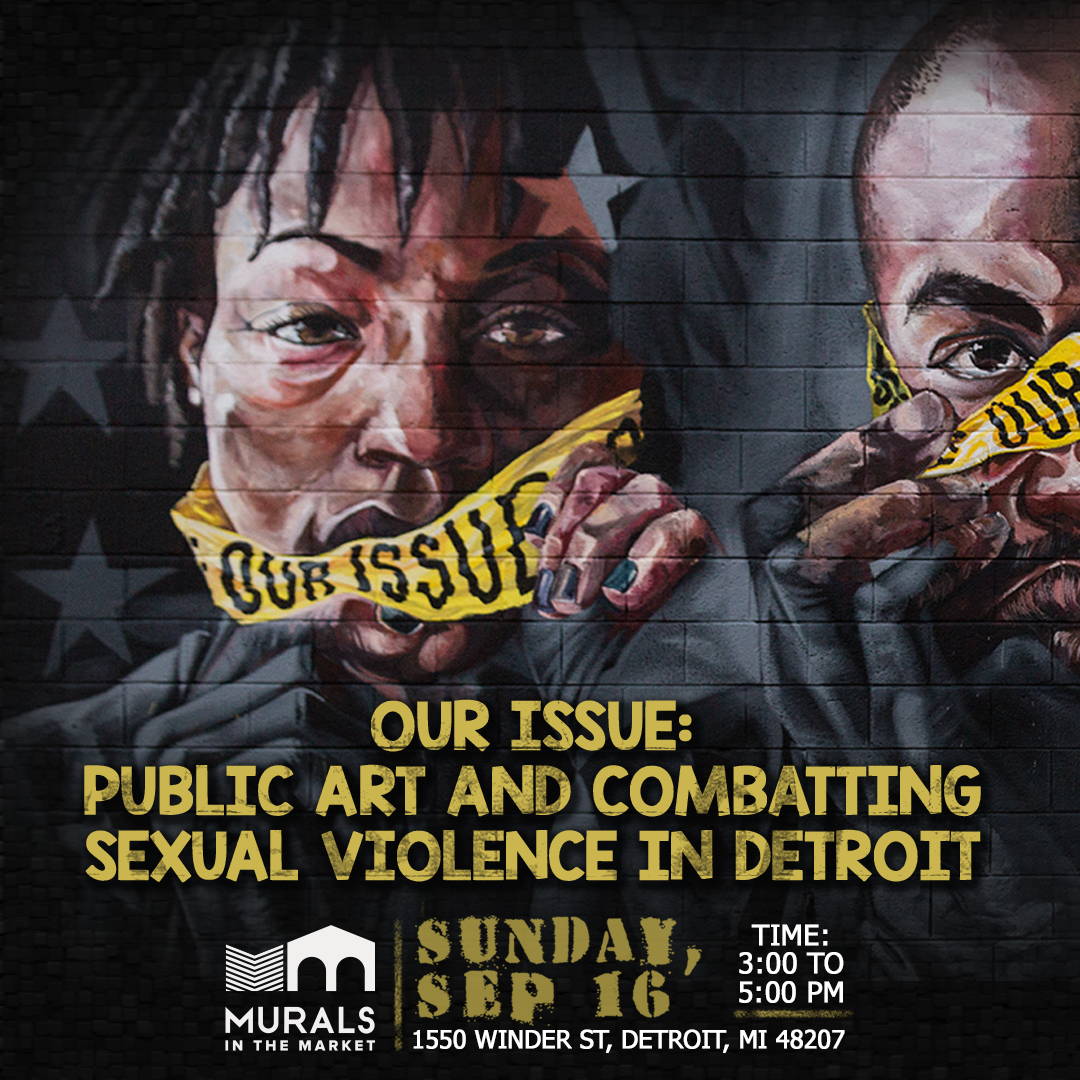 ---
OUR ISSUE PANEL DISCUSSION
Sunday, September 16th // 3pm - 5pm
Murals In The Market HQ
1550 Winder St, Detroit, MI 48207

Returning for the second year, the festival will partner to help raise awareness for Our Issue, an ongoing campaign against sexual assault started by former Detroit Lions player DeAndre Levy. Lead by alumni Sydney G. James, this panel will create a conversation with leaders from the Detroit community on sexual assault, how we all have a role in fighting it, and why public art is an important part of that fight. We have also teamed with AskewOne & Sydney G. James to create a limited edition t-shirt of their 2017 Our Issue mural. All proceeds from shirts will benefit Enough SAID (Sexual Assault In Detroit), Wayne County SAFE, and The SASHA Center to support the ongoing effort of investigating the backlog of rape kits in Detroit and providing direct services and care to survivors.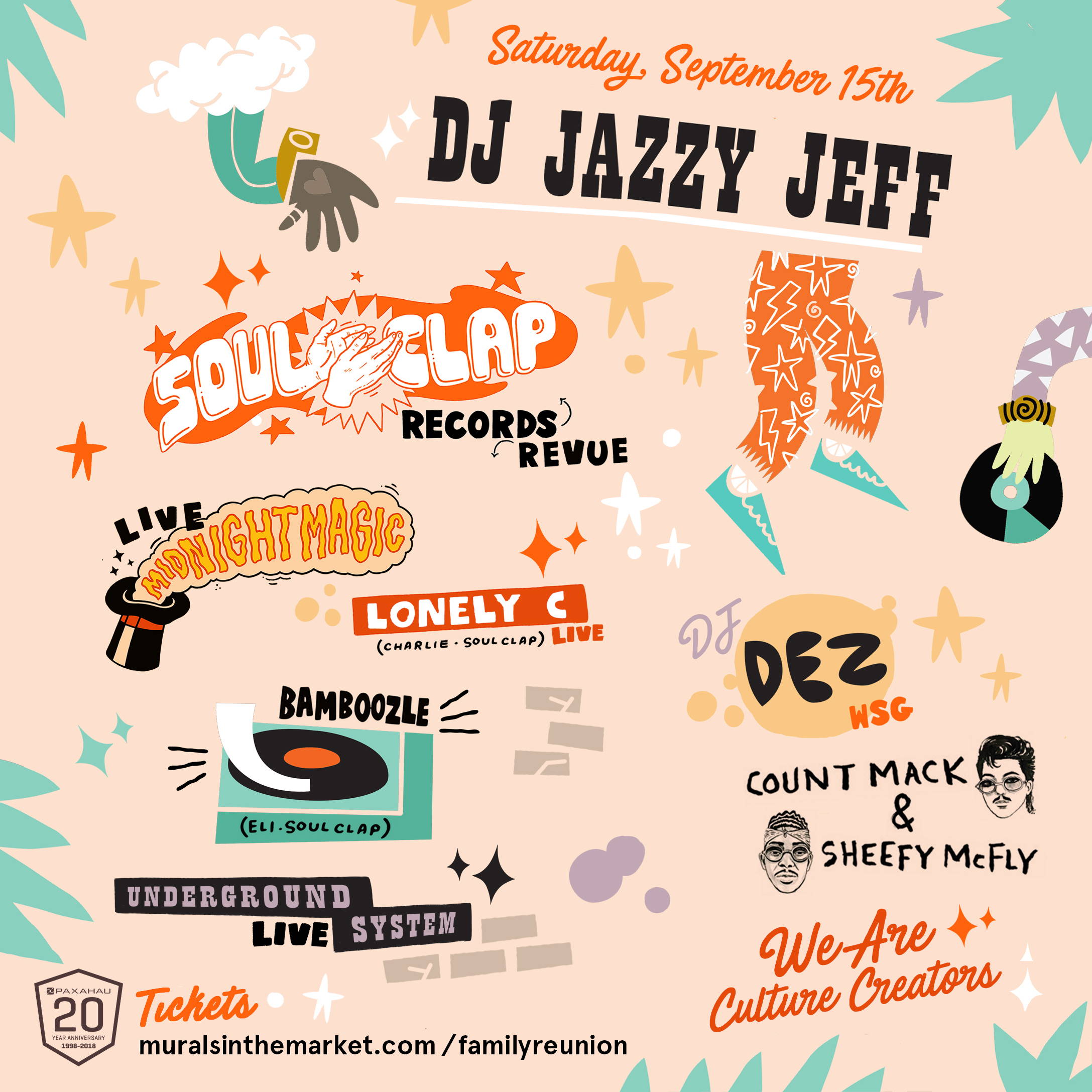 ---
FAMILY REUNION BLOCK PARTY
Saturday, September 15th // 5pm - 2am
Eastern Market // Division St. & Orleans
Detroit, MI 48207
Murals in the Market Family Reunion Block Party featuring DJ Jazzy Jeff, DJ Dez w/ Special Guest, Midnight Magic live, Lonely C live, Underground System live, Bamboozle, Sheefy McFly, Count Mack & more on Saturday September 15th at Eastern Market (Division St. / Orleans St.)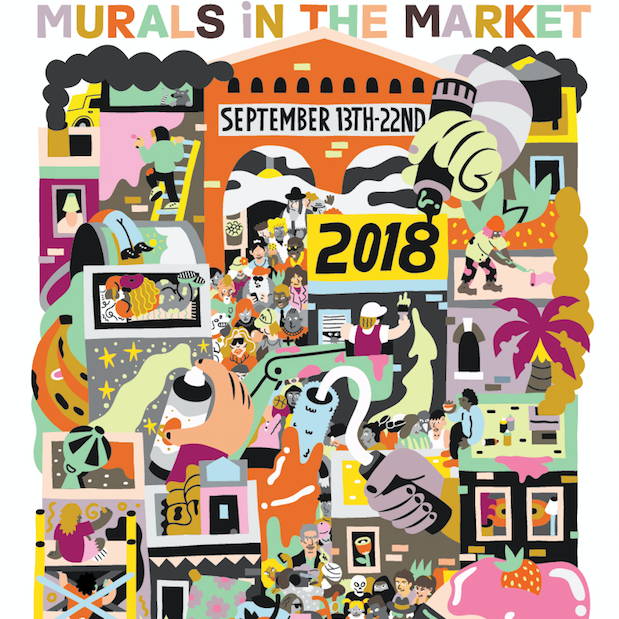 ---
MITM GRAND OPENING
Friday, September 14th // 7pm - 11pm
Murals In The Market HQ
1550 Winder St. Detroit, MI 48207
The massive Murals In The Market Opening Night Exhibition at the MITM HQ will feature a new original artwork exhibition and limited edition print from 2018 participating artists, as well as an expanded second floor exhibition showcasing a new body of from alumni Amy Fisher Price, featuring her iconic oversized tapestries that can be seen throughout the city replacing signage on defunct businesses and accenting abandoned buildings. Chris Turner & Dave Krieger will showcase their latest interactive exhibition Context Out Of Context, while Eileen Lee & Christopher Taylor will bring AURA AURA to this year's festival, creating experiential aura portrait inspired color photography, allowing patrons to take their own personal "Aura" photo. Detroit duo Michelle Tanguay and Camilo Pardo will also unveil a new body of work of collaborative paintings. 1xRUN will also be pulling prints from their extensive vaults of over 2,000 limited edition releases, showcasing rare gems from some of the world's most sought after artists.